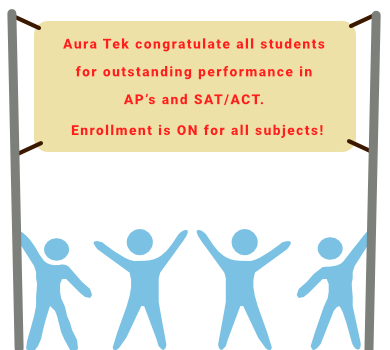 Testimonials
"Aura Tek teachers are really passionate in teaching their subjects and are very experienced in the exam subjects. This tutoring service served as an extra support system in our son's high school academic journey. We can count on them anytime, and it is especially useful in the months leading up to AP/SAT exams."

Valley Christian Parent

"Just wanted to thank Aura Tek and inform them that It has been very helpful for Anish in making smooth transition to his high school with Math, Bio and Spanish. All the teachers are excellent and willing to work with the student and help him in problem areas especially. Special thanks to Nidhi for following with my child before and after the class making sure she covers the topics that are being taught in school."

Aparna Singaraju

"My daughter came to Aura Tek looking for help on AP Calculus AB. Her instructor, Dinesh is very knowledgeable and constantly engaged her in class discussions and continued to address all her questions throughout the week. His energetic teaching style kept her focused and you can tell he is dedicated to help the students succeed by showing tips and different methods in preparation for the AP Calculus test. She truly enjoyed the sessions and benefited from something every week. As a parent, we are grateful that Dinesh offers flexible scheduling with multiple classes throughout the week and holds review sessions before exams to accommodate our daughter busy schedule. Thanks to Dinesh, she was able to get an A in her class and more importantly gained the confidence to continue with AP Calculus BC. Overall, the team is well organized with good communications throughout. We definitely recommend this service to students looking to improve their scores."

Tony Nguyen (Parent)

"My daughter went to Aura Tek Consultancy for her SAT prep classes. Over the course of her Program, she was excited and felt more prepared after every class. The teachers are highly qualified and very accommodating!! I highly recommend Aura Tek for any high school subjects!! "

Sheela Shimoga

"I have been going to tutoring sessions at Aura Tek since 8th grade of middle school. I went for math and science subjects such as Physics. I started off with the mindset of just trying to pass the class with an A. But, later in high school, I realized that these tutoring sessions with Dinesh were something else. His goal was not only to teach me the material for the SAT or AP test. Instead, Dinesh gave me insight into his way of thinking. The problem-solving skills that I learned over the years has carried over to other subjects as well. With these critical thinking skills, the AP test and SAT subject test scores come automatically, regardless of difficulty. I had not realized it before, but I think that when looking for a tutor, the approach to a certain problem matters the most, which is what Dinesh uniquely offers. Apart from the school-aspect, Dinesh is a really great person. Immediately, you can see that he is committed and passionate about this program. Sometimes he would help me with Calculus at 2 AM; Casually, we would be planning for the next day's engineering internship interview. Ultimately, high school is a crucial time for academic success/career planning, and I believe that Aura Tek gives a huge helping hand during this process."

Srikar Gattepalli (EVHS Student)

"I attended Aura Tek's Physics classes in the second semester of junior year. It was a very good investment of time for me! Mr. Pandey reviews the concepts in class as needed by the students instead of simply following a fixed order. One thing I appreciated was how he points out potential pitfalls on the tests, and the tricks that the SAT, AP test makers like to employ. He tells you what to expect on the test - the type of questions that you might get with different concepts. Going to his classes helped me use the same preparation for my AP exam, SAT subject test and my class finals. I would highly recommend Aura Tek to any student looking to get good scores, and also a good understanding of the concepts."

Riya Dash

"Dinesh is a great tutor and has helped my daughter immensely improve her math skills this past year. He provided a lot of support and is someone we would recommend to everyone."

Annie Kong

"My child attended Aura Tek's Physics classes to prepare for the AP Physics 2 exam and SAT Physics subject test. Mr. Pandey's instruction and coaching provided a good structure to her preparation. He figures out which concepts the child needs help on, and focuses on those. The class size is small, and they also do many mock tests. The teenagers can get busy with their high school work and other activities, and the weekly class makes sure they are also preparing regularly for the AP/SAT exams. In particular, my child said that she benefited a lot by knowing the tips and tricks to avoid losing points carelessly - in addition to concepts review, she also learnt how to take the test successfully - got a score of 780. Also, Mr. Pandey is very prompt and professional in responding back to any questions from parent."

Parent of Evergreen Junior

"We are extremely happy with Dinesh. He is a very gifted teacher. When our daughter was struggling with AP Chemistry, Dinesh helped her considerably. Within a week we could see her confidence growing and her score improved dramatically! Since then Dinesh is teaching her Math and Physics. We are very happy that we made right choice! Dinesh's approach of teaching is very unique and effective. He just does not explain the difficult concept easily, he also inspires the students to love the subject and understand its applications. Dinesh is a master of the subjects he teaches and makes the learning fun for the students!"

Presentation Parents

"Dinesh Pandey is energetic, enthusiastic and passionate about teaching. He did a great job motivating my son to want to understand and work hard in Calculus BC and Chemistry and as a result scored an 800 in Math 2 SAT subject test, 790 in Chemistry SAT subject test and a 5 in AP Calculus BC. I highly recommend his tutoring classes."

Harker Parent

"I highly recommend Aura-Tek tutoring services for any student who wanted to have more command over the subjects that they wanted to excel on. Before joining at Aura-Tek, my daughter was struggling with math at her high school. After started taking tutoring lessons at Aura-Tek, I see excellent improvement in her grades at school. Now she is more confident in her math skills and she is looking forward to learn more new concepts. Dinesh is great at explaining things and he will make sure your kid get understand the concepts very well. Personally I'm very happy with Aura-Tek tutoring services and would like to thank him for doing such a great service to the community and I highly recommend Aura-Tek tutoring services to anyone who wanted to excel any subject!"

A Happy Mom- Saint Francis

"For AP Biology tutoring, Ms. Nidhi used many visuals such as diagrams and videos which helped me a lot since I am a visual learner. It helped me actually understand and remember the concepts as well. I also found the flash cards and practice quizzes that Nidhi emailed me to be very useful since it recapped and reinforced what you taught me during the sessions."

Priyanka Karunakaran
Courses Offered High School Students
• AP Courses • Calculus AB/BC • Physics I and C (Calculus Based) • Physics II • Computer Science • Statistics • Chemistry • Biology • Spanish • SAT (Regular and Subject Test) • Math • Physics • Chemistry • Biology • Critical Reading/Vocabulary/Grammar • Essay Writing • HSPT (High School Placement Test) • Algebra II / Pre-Calculus/Math Analysis • Geometry (Advanced) • Regular Physics and Chemistry • Spanish • Spanish I/II/III • AP Spanish
Middle School Students
• Advance and Regular Math • Common Core • Language Arts • Science
Elementary School Students
• Math • Language Arts • Science
Online Classes
There are students who excel both at academics and athletics and we understand the need for them to give it their best in both fields. Our online classes are ideally available for such students who might have a busy schedule. Our online courses offer similar advantages, teaching students the cognitive way of thinking and giving them the facility of replaying, rewinding and learning on the go.
Private Coaching and Classes
We understand that some people like to study alone and would rather be in an environment which enhances their learning abilities. Aura Tek caters to people who are much more comfortable with private tutoring by offering 1 on 1 sessions for your exam preparations.
Preferred Group Schedules
Aura Tek believes in helping students learn with convenience. If you are unable to reach the Aura Tek tutoring center, you or a group of friends can get together and devise your own schedule, at a location of your choice. This will reduce the time of your commute and give you the freedom to study at your preferred time.
24 Hours Assistance Available
Aura Tek provides a 24 hour service to its students so that they do not have to wait for the next session to solve a problem they have been working on. Aura Tek can be reached through SMS and email any time of the day and our tutors will reply within 24 hours to help you solve the problem. We make sure that if you are putting in the effort at home, we can assist you with it.